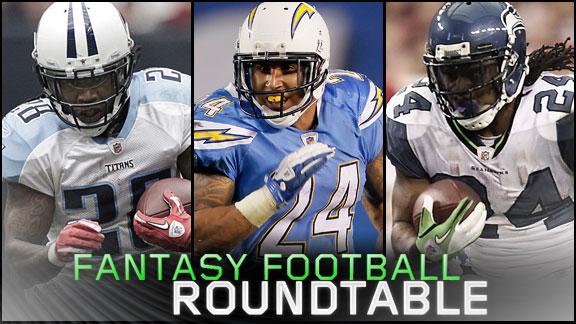 Tier 1: The Elite
1. Arian Foster
2. LeSean McCoy
3. Ray Rice
Who I want the most:
LeSean McCoy
. I love Arian Foster. I love Ray Rice. But like last year, I really love LeSean McCoy. And after these guys, well, let's just say the running backs are a crap-shoot. These are hands down the elite, the most proven, and the closest to a surefire running back you will get this year. So why McCoy? In the explosive Eagles offense, McCoy piled up 1,600 all purpose yards and twenty touchdowns. Even if his touchdowns decrease, he will still be a top five back. "Shady" had only 273 carries last year and is just 24 years old. He also does not have a Ben Tate guy who could steal his carries. And while Rice might be the safest choice here, I'll take McCoy and his ridiculously high upside.
Tier 2: The "Sigh, I Don't Get an Elite Running Back..."
4. Maurice Jones-Drew
5. Chris Johnson
6. Ryan Mathews
7. Matt Forte
Who I want the most:
Matt Forte
. As consistent as MJD has been, this could be the year he falls off. MJD just tallied a 380 touch season and to his dismay, he has Blaine Gabbert as his quarterback. Meanwhile, Forte now heads up what could be the best Chicago offense in years. Even if Michael Bush takes away some carries, Forte will still be the center of attention. Last year, Forte was on pace to lead the league in yards from scrimmage and he has the chance to do the same. As sad as I am to recommend drafting a Bears player, Forte is your guy.
Bust alert: Chris Johnson. For a guy who ran for 2,000 yards in 2009, he has been on a steady decline since. His yards per carry have gone from 5.6 to 4.3 to 4.0. Will he ever run again like he did in 2009? Maybe his
"

get away from the cops speed

"
will return. Or maybe he will disappoint multitudes of owners again.
Tier 3: These Guys Might Really Be My Best Running Back?
8. Marshawn Lynch
9. DeMarco Murray
10. Steven Jackson
11. Trent Richardson
Who I want the most:
Steven Jackson
. He may actually go a round later than most of these guys and he should be a pretty safe pick. Then again, no one outside the top 3 is safe this year. He isn't flashy, nor is his offensive line any good, but he gets the job done. Only Isaiah Peed can take away carries but, Jackson will still be the man. Richardson has the highest upside here as will be the best playmaker on the Browns. With that said, he could be line for a Adrian Peterson rookie-like year. Then again, he is on the Browns...
Tier 4: The Hospital Bed
12. Darren McFadden
13. Jamaal Charles
14. Adrian Peterson
15. Fred Jackson
Who I want the most:
Adrian Peterson
. He's a freak. He's a monster. He can overcome a little ACL injury. Well, maybe. If you take a look at previous great running backs before and after ACL injuries, then you know things do not look bright. But of all the players here, Peterson is your guy. Even if he doesn't start the season healthy, he will be back sooner than later and can put up his usual numbers. Charles is splitting with Peyton Hillis. McFadden, I'm pretty sure has a spot reserved in the Oakland hospital. And Fred Jackson now has C.J. Spiller to split carries with. Go with Peterson. And pray. Lots.
Tier 5: The Okee Dokee
16. Michael Turner
17. Frank Gore
18. Roy Helu
19. Darren Sproles
20. Ahmad Bradshaw
Who I want the most:
Michael Turner
. Many are predicting a steep decline for Turner. While the age is there and the carries are piling up, I do not see Turner declining as much as people think. Atlanta is still a run first offense and Turner has been stellar the past two seasons. Gore is risky. So is Bradshaw. And my goodness, I do not think I will draft another Redskins running back as long as Mike Shanahan is there. Roy Helu looks like the man which probably means he is indeed
not
the man. And Darren Sproles is a fantastic PPR option and just an average standard league option.
Tier 6: The Cedric Benson Tier
21. Benjarvus Green-Ellis
22. Reggie Bush
23. Shonn Greene
24. Jonathan Stewart
25. Ben Tate
Who I want the most:
BGE
. Hands down. He will get plenty of carries and will "thrive" like Benson in the Bengals pound it relentlessly offense. He has yet to fumble in his career and in the past two seasons, he has 24 touchdowns! You can definitely expect Benson-like numbers or better this season.
Bust alert: Shonn Greene and Reggie Bush. Bush has Daniel Thomas AND Lamar Miller, both of whom may cut into his carries. And Shonne Greene. Man, I'm starting to dislike this guy. My favorite sleeper the past two seasons were met with nothing spectacular. He did end the season strong, but with Tim Tebow there, he may actually lose some goaline carries. Of course, the year I predict him to do nothing is the year he will break out. Just wait, feel free to take him just because I said he will continue to be the worthless underachieving running back he is.
Tier 7: The Uninspiring
26. Jahvid Best
27. Wilis McGahee
28. Isaac Redman
29. DeAngelo Williams
30. Beanie Wells
Who I want the most:
Isaac Redman
. None of these guys may get through a full season. Best is the definition of a boom or bust player. McGahee is the definition of a 31 year old running back. Wells is a lock for less than 16 games and Williams will be running alongside Cam Newton, Jonathan Stewart, and Mike Tolbert. Did I convince you on Redman?
Tier 8: The Back-ups
31. Mark Ingram
32. Stevan Ridley
33. C.J. Spiller
34. Peyton Hillis
35. Michael Bush
36. Doug Martin
Who I want the most:
Doug Martin
. If only LeGarrette Blount would just go. Or fumble the ball away lots like last year. Martin has perhaps the highest upside here given he will get a good chunk of the carries. But all the guys here are great options especially if injuries happen to their counterparts.
Tier 9: What? There're Actually Starters Here?
37. James Starks
38. Donald Brown
39. Toby Gerhart
40. LeGarrette Blount
41. David Wilson
42. Daniel Thomas
Who I want the most:
Donald Brown
. He could be a nice surprise this season. If Andrew Luck and the offense get rolling, Brown figures to play a key role. Of all these guys, he has little competition and could be a great late round flier.
Tier 10: The Rest
43. Kevin Smith
44. Pierre Thomas
45. Shane Vereen
46. Brandon Jacobs
47. Jonathan Dwyer
48. Ryan Williams
49. Felix Jones
50. Bernard Scott
Who I want the most:
Kevin Smith
. He had his out of nowhere game last year against Carolina, then managed just two okay games after. He still has the highest upside of the bunch and is emerging as the possible starter in Detroit. Take a chance.