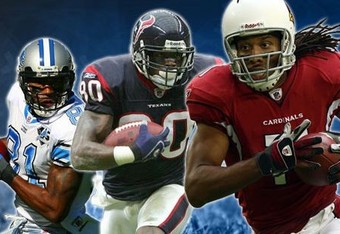 Tier 1: The Elite
1. Calvin Johnson
2. Larry Fitzgerald
3. Roddy White
4. Andre Johnson
Who I want the most:
Roddy White
. Honestly, the Madden curse does scare me. It really does. While I would love Calvin Johnson, he will likely go in the top 8 which is just a bit too high for me. Even with the emergence of Julio Jones, White will still be the man. White still led the league with 182 targets last year. He will not be forgotten. And with Michael Turner on the decline, White will be in for another stellar year.
Bust alert: Andre Johnson. He is still elite, yes. But, too many injury concerns and a more run-oriented team makes me less likely to pick Johnson this year. This doesn't mean you neccessarily pass on him; just be cautious and make sure he is your guy.
Tier 2: The Near Elite
5. Wes Welker
6. Greg Jennings
7. Mike Wallace
Who I want the most:
Wes Welker
. He always seems to be drafted a little lower than most big time receivers. But he remains one of the most consistent and productive receivers of the past. Last year, he was completely healthy and had the second most targets, second most receiving yards, and most catches of anyone. He remains a PPR monster and is a rock solid pick. Mike Wallace is in a close second as he is no longer just a deep threat, but now an all around fantasy wide receiver. And while I love Jennings, the emergence of Nelson and the mix of Jermichael Finley and Randall Cobb make it tougher to depend on Jennings as a true number 1 wideout.
Tier 3: Still Number 1's
8. A.J. Green
9. Hakeem Nicks
10. Steve Smith
11. Brandon Marshall
Who I want the most:
A.J. Green
. This kid can play. With him and Andy Dalton having one year officially under their belt, things can only go up. In just 116 targets, Green produced 1,057 yards and 7 touchdowns as just a rookie. I would not be surprised to see him at more around 1,400 yards and double digit touchdowns
this year
.
New team: Brandon Marshall. He is reunited with Jay Cutler and could explode this season. He was looked at as a risky pick last season but still produced. Now, although still a bit risky due to his looming personality disorder, he could be a steal and produce like a clear-cut number 1 receiver.
Tier 4: Can They Do It Again?
12. Jordy Nelson
13. Victor Cruz
14. Julio Jones
15. Dez Bryant
Who I want the most:
Jordy Nelson
. This may be because he is a Packer in this case, but Nelson really played like an elite last year. And, he has this beast by the name of Aaron Rodgers throwing him the ball. Nelson is a big play threat every down and can put up monster weeks. But this entire group is extremely young and talented. Cruz and Jones exploded onto the scene last year and Cruz may have the toughest time replicating his numbers. The question for all of these studs is: Can they do it again?
Tier 5: The Less Certain
16. Brandon Lloyd
17. Miles Austin
18. Percy Harvin
19. Marques Colston
20. Demaryius Thomas
Player I want the most: Brandon Lloyd. Tom Brady. Enough said. For the first time in his career, Lloyd gets an elite quarterback to throw to him. Even though there are many options in New England, Lloyd could be the defensive backs forget about. Remember his monster season in Denver with Kyle Orton throwing to him? Well, hello Tom Brady. And, Lloyd did an awesome video for the
Madden cover
. This will make anyone want to draft him.
Tier 6: Potential
21. Vincent Jackson
22. Steve Johnson
23. Kenny Britt
24. Jeremy Maclin
25. Dwayne Bowe
Player I want the most: Kenny Britt. I like this guy more than others do and here's why: big game potential. He is a bit of a risk, but could be well worth it. In a semi-healthy 2010 season, he put up nearly 800 yards and 9 touchdowns in just 12 games. There's potential, but he may be the biggest risk of this group.
AVOID AVOID AVOID: Dwayne Bowe. Like I said last year, he has Matt Cassel throwing him the ball. We saw his numbers dip big time last year. Sadly, it could happen again.
Tier 7: Upside
26. Antonio Brown
27. Eric Decker
28. Robert Meachem
29. DeSean Jackson
30. Santonio Holmes
31. Pierre Garcon
32. Lance Moore
33. Malcolm Floyd
Who I want the most: Antonio Brown and Eric Decker. I love the upside Garcon with RGIII here, but I cannot resist Antonio Brown. He came out of nowhere to become one of Big Ben's favorite targets last season and produced 1108 yards with 69 catches. He should be the most consistent of this bunch and is worth the mid round pick. I also cannot resist Decker. He has more NFL style experience than his counterpart Demaryius Thomas and has potential to be a PPR machine. Hear it now, I would not be surprised if Decker finishes in the top 10 for wide receivers.
Tier 8: Youngins' Surrounded by Oldies
34. Anquan Boldin
35. Denarius Moore
36. Torrey Smith
37. Reggie Wayne
Who I want the most:
Reggie Wayne
. When was the last time Wayne was not drafted in the top 10? Let's say, oh, 2004. He certainly has lost a step, but he could be a steal if he and Luck click. Don't get your hopes too high. But at this spot, Wayne is a very low risk, high reward pick.
Tier 9: The Rest
38. Michael Crabtree
39. Sidney Rice
40. Darrius Heyward-Bey
41. Justin Blackmon
42. Nate Washington
43. Titus Young
44. Laurent Robinson
45. Rueben Randle
46. Randy Moss
47. Mike Williams
48. Mario Manningham
49. Leonard Hankerson
50. Greg Little
Who I want the most: Sidney Rice. There's no one with major upside here and nothing exciting either. But Rice has Matt Flynn who could either boom or bust in Seattle. Rice has had only one good season and that was with Brett Favre. And thank goodness Tavaris Jackson should no longer be throwing to him. Clearly, that has not worked out. And take a flier on Randy Moss if he is available late. He could be quite the steal... Or literally do nothing.