Value, according to Merriam-Webster dictionary, is the relative worth, utility, or importance. A value pick in fantasy is someone who can be picked later than others at his position, but has potential to produce on par or even better than those drafted ahead. By identifying key value picks in your draft, you should be able to really bolster your lineup and have depth on your bench. Here are some players who I think provide great value for where they are being drafted.
Tony Romo (QB, DAL, ADP 45)
:
Romo
being drafted will most likely signify the end of the elite quarterbacks in your draft. Although drafting him coming off his injury is a bit risky, he provides great value for a 4
th
to 5
th
round pick. Before last season, he put up at least 26 touchdowns in three consecutive seasons and over 4,000 yards in two of them. Expect him to return to those numbers making him a solid number 1 option and great value if you want to wait a bit for a quarterback, while still grabbing an elite one.
Kevin Kolb (QB, ARI, ADP 112)
: With a fresh new start in Arizona, Kolb has a chance to piece together a solid season with his new team. Despite his lack of experience and poor touchdown to interception ratio, look for Kolb after the 10
th
round. Here, he can provide backup value with potential to be a low end starter. Keep in mind that if you do grab a top 7 quarterback, there is really no need for a backup. But those who go for a two QB strategy or aren't sure of their starter, Kolb should be your man.
Ahmad Bradshaw (RB, NYG, ADP 35):
N
ow back with the Giants, speedster Bradshaw is looking to pick up where he left off last year. Even with Brandon Jacobs in the mix, Bradshaw saw more carries and produced 1,500 all-purpose yards and 8 touchdowns. Look for more of the same from Bradshaw who has great potential for a 3rd or 4th round back.

And with him being drafted close to Knowshon Moreno and Ryan Matthews, I would take Bradshaw in a heartbeat over the two.
BenJarvus Green-Ellis (RB, NE, ADP 52):
This is where the site you use for fantasy changes one's value greatly. In my drafts on Nfl.com, I have gotten tremendous value for him in the 9
th
round. But on ESPN, it appears as if he is going more towards the 5
th
round. Nonetheless, Green-Ellis has a knack for the endzone and provides good value if you can snag him after the 5
th
round. Just be wary of
Bill Belichick
who tends to mix up his backfield quite a bit. And with New England using their recent 2
nd
and 3
rd
round picks on running backs, Green-Ellis may get lost in the mix. However, I expect Green-Ellis to have another productive season as he is one of my favorite mid round running backs.
Shonn Greene (RB, NYJ, ADP 59)
: Last year many people, expected Greene to be a
breakout candidate
with a bigger role in New York. Unfortunately for his owners, LaDainian Tomlinson reemerged and bumped Greene down to a small role. But this year Greene should get the bulk of the carries and will play more like he did against Chicago in week 16. For a 5
th
or 6
th
round pick, Greene could bring the value of 2
nd
or 3
rd
round pick. And folks, this year will be his breakout year.
Brandon Lloyd (WR, DEN, ADP 53)
: Again, the site you draft on could greatly change someone like Lloyd's draft spot. Since people tend to draft generally based on the site's rankings, I've seen Lloyd go anywhere from the 5
th
round to the 8
th
round. If you can get Lloyd anywhere after the 6
th
round, he could be a steal. Don't expect last year's numbers, but with
Orton still throwing and Lloyd his go-to guy
, I think he will surprise us again. And in my league where he is my
4th
receiver, I couldn't be happier.
Austin Collie (WR, IND, ADP 72)
: Collie was having a stellar season till a
series of concussions
derailed his season. But he showed that he is capable to be a great number 2 wide receiver and is a bargain in the 7
th
round. In just 9 games last season, he had caught 58 passes for 649 yards and 8 touchdowns. The Colts have lots of receiving options, but Collie should be able to shine in the slot. Albeit a bit of a risky pick given his concussions, Collie is a fairly low-risk high-reward pick in the middle rounds.
Mike Sims-Walker (WR, STL, ADP 131): Look for Sims-Walker to be an absolute steal late in your draft. While you shouldn't expect him to be a number 1 option, don't be surprised if he puts up 800 yards and 6 touchdowns. With Sam Bradford throwing, Sims-Walker could rebound, assuming that he does in fact make the team. The St. Louis camp is extremely crowded with average wide receivers and it is possible for Sims-Walker to not make the team. But given where he is being drafted, he is certainly worth the risk.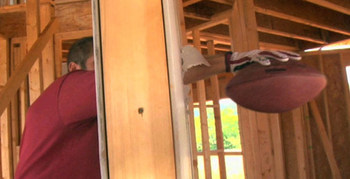 It's cool to punch a hole in a drywall, let alone catch a ball thrown from the other side. Skills.
Chris Cooley (TE, WSH, ADP 121)
: Long gone are the days of Cooley being an elite tight end. But last year, Cooley was still targeted plenty of times in the red-zone even with Fred Davis looking to grab the tight end spot. Cooley finished second among tight ends in catches and third in yards, but had only 3 touchdowns. Don't be afraid to take Cooley in the late round if you miss out on the elite tight ends. While gone are his 6 touchdown seasons, he will still be a productive option. And, he still has one of the coolest
"NFL Fantasy Files"

.